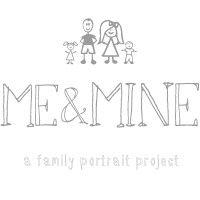 We are so excited to be taking part in the Me and Mine family photo project again this year. We only joined in with it fairly later on last year so we are really looking forward to collecting twelve photos this year with all three of us in. Normally, one person will be missing from the photo and controlling the camera so this is a really good prompt to make us go out and collect photos of us together, and I'm sure we will really love looking back on these photos in years to come.
This month, we actually got a couple of photos right back at New Year. They're just selfies taken on my iPhone and I didn't intend for these to be our Me and Mine photos. I actually quite like them; it was snowy and they were taken on a walk we went on together at a beautiful reservoir we love visiting. I had intended on us taking a nice photo somewhere but unfortunately, the January lurgy hit our household and Little One ended up with a bad chest infection... then I got ill too. In and amongst that, Mr F being super busy with work and line and Little One's weekly routine, time just seems to have passed us by.
And here we are, it's January 31st, Little One is full of beans and totally back to his bubbly, giggly self and despite the snow on the ground, I feel a slight hint of spring in the air.
This month:
Mr F has been loving
*The snow (which we had loads of here in Yorkshire), although he hasn't enjoyed digging the snow off our road.
*Teaching Little One to wipe his own nose.
*Coming home from work and playing with Little One.
*The new season of Suits on TV.
I have been loving
*Taking Little One to some new really exciting play centres.
*Working on growing my new card business.
*The past couple of days since Little One has been feeling better.
*The new season of Suits on TV.
*The snow.
Little One has been loving
*Learning new words.
*Strumming and carrying around Daddy's Ukelele (!!)
*Singing songs he's learnt at nursery.
*Baking with Mummy.
*Reading books and finding different things in the pictures.
*Making lots of different animal sounds.
*Swimming lessons.