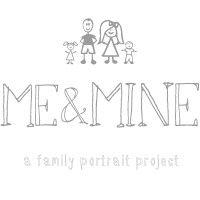 I can't believe it's the last day of the month again, and we are sharing our family portraits for the month of February. The month has disappeared in a flash but we are all definitely looking forward to saying goodbye to the winter months and hello to spring. Although it's still cold, there is a definite sense of spring in the air and we have been loving going out for some lovely walks over the past week. We got very excited when we spotted the first crocuses yesterday- they were yellow (yellow makes me feel happy) and purple (one of my favourite colours) and it honestly brightened up my day!
We have had a couple of little days out, including a day trip over to Hull to visit The Deep aquarium, and also some little outings near to home as well. We celebrated my little sister's 23rd birthday which was lovely and we had a lovely Valentine's date night, opting to stay at home instead of going out. I have been a bit busier with my card business and Mr F has been working super hard with his job, travelling about all over the UK. Little One is loving nursery and can't wait to run in to get his breakfast when I drop him off now.
All in all, it's been a quiet month for us. Nothing overly exciting, but we have a nice little weekly routine. We can't wait to go on more walks like this one in the next month. We feel so fortunate to live so close to such gorgeous scenery and we feel we should definitely make the most of it. I love these photos as we are at one of our favourite places to go for walks.
This month, I have been loving:
*The first sight of yellow and purple crocuses.
*The evenings getting lighter.
*Trips to the park and the lake.
*Growing my card business.
*Watching Fleur de Force's daily vlogs!
*Buying some lovely new bright clothes for Little One.
*A rare night out with my lovely friends.
*Being thrifty with our weekly food shops.
*Staying in out of the cold.
*Watching 24 and Suits on TV.
*Teaching Little One even more new words.
Little One has been loving:
*Having the freedom of walking around everywhere on his reins instead of being in the pushchair.
*Playing cars and trains on his new town floor mat.
*Playing with our two cats.
*The discovery of running.